Geoff Anderson Tuva Long Wading Jacket
Geoff Anderson Tuva: Simplicity at its finest!
The comfortable 3/4 length makes Tuva an excellent choice for most kinds of fishing. Also an excellent combination jacket for most outdoor activities/sport.
00% wind and waterproof
Breathable
YKK® zippers
High tensile strength
Tapped seams
Adjustable waist
Water tight chest pockets
Hand warmer pockets with automatic magnet closure
Inner pocket
Spacious back pocket
Hypalon wrist closure with Velcro®
Eco-tex certified fittings
Designed in Denmark
Produced in EU
Geoff Anderson Tuva
In the pursuit of perfection, Geoff Anderson first and foremost search for improvements. On this journey, they dig deeper into the complexity of being simple. They transform complexity into Simplicity
Geoff Anderson Tuva must submit to your needs immediately, without you reading a manual first.  The high-strength fabric, the jacket design and the invisible technology will work without your help because:
Real salt water technology withstand sharp salt crystals.
The dynamic climate control means that the higher the difference between internal and external temperature, the greater the breathability.
Pockets that can be opened and closed with one hand thanks to our innovative magnetic zippers.
You get the benefit - just by wearing the jacket!
Tuva is maximum quality with precise, tailored features and innovative technology. Simply Advanced.
Tuva is definitely new looking but behind the look is a well proven technology that we have used in our Tsuba style. Tsuba has already shown that it is a market leader in its field.
We welcome Tuva to our family of future fishing jackets!
Pockets:
2 hand warmer pockets that include our innovative magnet zipper closure. 2 deep incline front pockets with saltwater resistant YKK® AquaGuard® zippers. Inner pocket with YKK® zipper
Spacious back pocket with saltwater resistant YKK® AquaGuard® zipper.
With a rotatable hood with cap/shade that follows your head movements. The hood and collar are separated, providing greater comfort when the cap is not being used. 3-way adjustable:
Inner Hood, Visibility / angle, Shade
Shoulder section and sleeve designed to provide great freedom of movement when spin or fly fishing. The adjustable waist and hem also ensures optimal comfort regardless of fishing situation. Unlike the vast majority of their competitors, Geoff Anderson fabric is made in Scandinavia. Also the technology has no pores / holes that can become clogged, preventing the material from breathing. Nor do we have problems related to "pin holes". The System Fabric 3 layer is a waterproof, breathable and durable "sandwich fabric" consisting of a liner, a membrane and a face of a high tensile fabric. All welded together.
Tuva is, thanks to its strong design and material selection, a jacket that will out live most other jackets of the same type. Durability makes the most sense when it comes to limiting climate impact. Individual parts are eco-tex certified. The jacket has an ultra low carbon footprint, as fabric is produced in Sweden and the jacket is produced in Poland. You choose Tuva if you want the latest technology and have an attitude towards production ethics.
Size Guide - How to find your measurements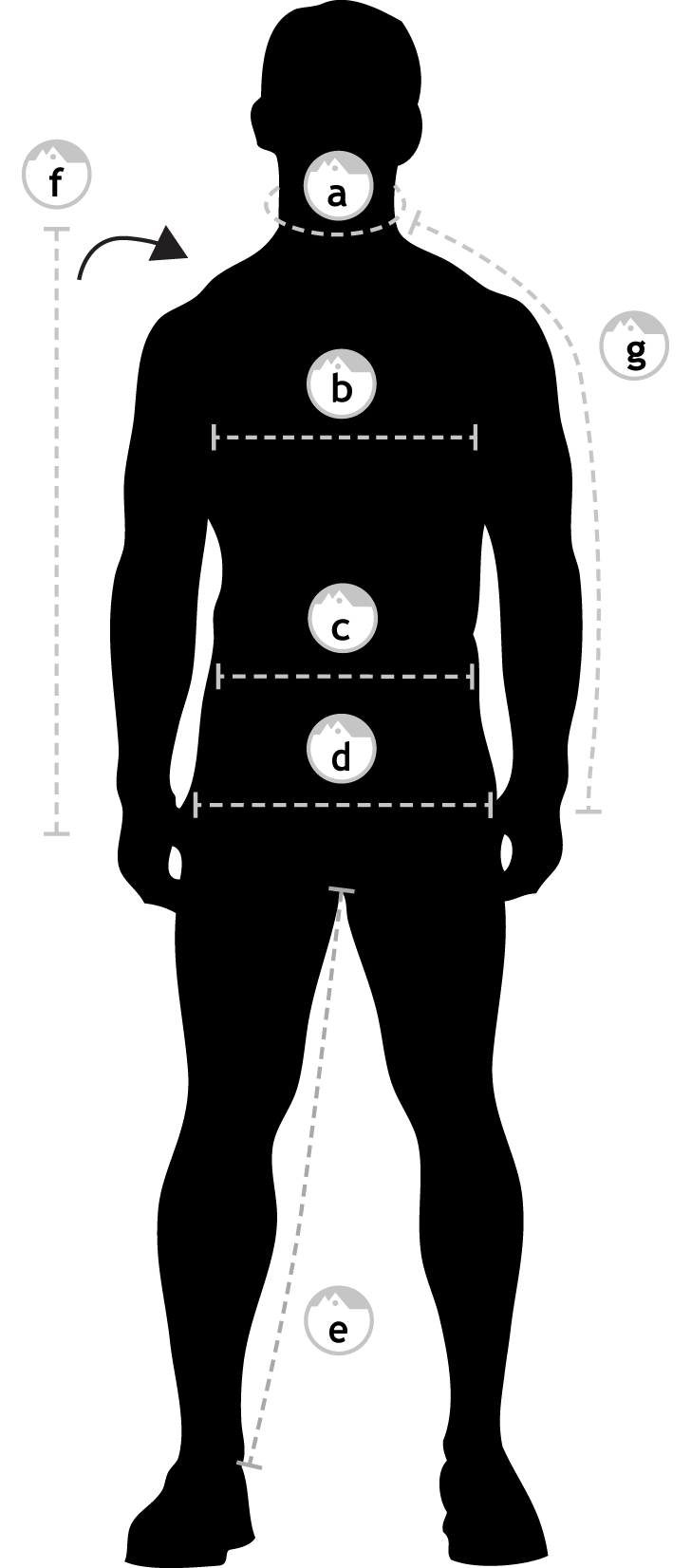 The best you can do is to take one of your own well fitting pants, jackets, shirts or the like and make your measurements directly on the garments. In this way it is easier and more precise than doing the measurement on your body.
a = Neck (shirts)
b = Chest
c = Waist
d = Hip
e = Inseam
f = Center back
g = Sleeve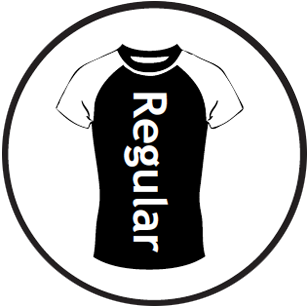 Tuva

| | | | | | | | |
| --- | --- | --- | --- | --- | --- | --- | --- |
| | S | M | L | XL | XXL | XXXL | JUMBO X |
| Centre back (f) | 75 | 78 | 81 | 83 | 84 | 87 | 88 |
| Chest (b) | 114 | 120 | 124 | 132 | 138 | 142 | 160 |
| Sleeve (g) | 77 | 78 | 83 | 85 | 87 | 87 | 88 |
| Waist (c) | 110 | 116 | 120 | 124 | 126 | 142 | 162 |